Featured Business
Meet Behnke & Grant - Designers of Interiors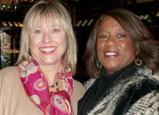 Contact Kai Behnke at 773-732-3055 or
Behnke & Grant are two retired Delta Airlines Flight Attendants with a passion for style and design. After excelling and graduating from one of Chicago's most prestigious interior/architectural design schools Kai Behnke & Casey Grant combined their creative talents and formed Behnke & Grant, a staging company.
Behnke & Grant help residential and commercial property owners enhance and transform their existing spaces for a quick and profitable sales.
Behnke & Grant develop all of the property's possibilities using artistic inspired innovation.
Behnke & Grant increase a property's marketability by creating spaces that are the most visually appealing to the greatest number of prospective buyers.
Behnke & Grant just recently staged three properties valued at over a half a million dollars, one sold in two weeks!
Behnke & Grant will personally consult with you to determine your property's unique design needs.
Behnke & Grant's friendly professional services include:
. Space Planning
. Color Consultation
. Floor Plans
. Furniture Placement

Call Behnke & Grant and turn your design goals and dreams into a reality.